Showcase your surfaces with transformative finishes.
Discover the DI-NOC™
brand difference.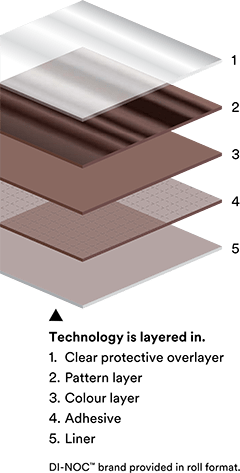 Unlike anything else.
Why replace expensive fixtures and surfaces when you can resurface them indecorative metal, sophisticated stone and luxurious wood designs at a fractionof the cost? 3M™ DI-NOC™ Architectural Finishes let you transform your spaces with less downtime, less labour and less waste.
Apply to virtually any surface.
These durable, dynamic films are easy to install, conforming to a variety of flat or curved surfaces, including walls, panels and ceilings.
With more than 800 patterns to choose from, it's not a question of how you can revitalize your image, but when.
Applications for 3M DI-NOC™
Architectural finishes that provide creative flexibility for a wide range of environments and applications
3M DI-NOC Architectural Finishes are the cost-effective alternative to traditional construction materials used in refurbishing, maintaining and repairing old or worn substrates. The product's diversity lends itself perfectly to a wide array of commercial, residential, and institutional applications. 3M DI-NOC Architectural Finishes are typically installed on-site with minimal downtime making it your best choice for application.
Retail
In the retail world, time is of the essence to capture visitors' attention and communicate the values of the brand. Atmosphere and multi-sensory stimulation are key requirements for retailers to attract and engage shoppers. 3M DI-NOC Architectural Finishes combine flexibility and ease of installation. They require little maintenance and maximize the emotional impact. They can be extended to all substrates of the store: from furniture to suspended ceilings, walls, shop windows, and furniture.
Corporate Offices
Corporate offices are one of the largest markets that consistently look for solutions to upgrade both the environment and space with cost efficiency and minimal disruption to employees and production. 3M DI-NOC Architectural Finishes offer quick and efficient refurbishment systems, with simple and economical post-installation maintenance. DI-NOC provides countless compositional options and designs that are always in line with the latest trends.
Hospitality
Good design and efficiency are central parameters in the hospitality industry. 3M DI-NOC Architectural Finishes offer solutions for hotels, bars and restaurant environments such as fire regulation compliance, ease of cleaning and peace of mind. DI-NOC's key advantage is its simplicity and speed of implementation compared to traditional refurbishment techniques. Renovations can be carried out without the use of heavy equipment noise, minimizing any unnecessary disruption to day-to-day activities.
Healthcare
Hospital environments have specific requirements for surfaces, such as healthcare hygiene, cleanliness, and resistance to water, dirt, and bacteria. 3M DI-NOC Architectural Finishes offer a wide array of anti-bacterial films, which are ideal for these applications. DI-NOC uses both form and colour to create a welcoming environment, which also improves the productivity of staff and the mood of patients.
Residential
Make every room in your house a unique place, modern or classic, coloured or minimalist. Give a touch of originality and elegance to doors, windows, screens, partitions, wardrobes, shower rooms, and glass doors. 3M DI-NOC Architectural Finishes allow you to redesign and transform spaces to quickly reach your aesthetic aspirations with surprisingly little impact to your budget.
Public Spaces
Managers of public places need to take account of the changing needs of their customers. Today, spaces often require frequent changes and renovations. 3M DI-NOC Architectural Finishes make it easy to adapt furniture and structures that are not easy to remove and update them to be consistent with current trends and fashions. As an alternative to expensive purchases of furniture, DI-NOC ensures fast, versatile and affordable refurbishment, without sacrificing aesthetics.
Compare the benefits of DI-NOC™ Architectural Finishes.
| | | | | | | |
| --- | --- | --- | --- | --- | --- | --- |
| Feature/Benefit | DI-NOC Brand | Laminate | Veneer | Stone | Paint | Wallpaper |
| Wide Range of Patterns | * | * | | | | * |
| Textured Structure | * | | * | * | | |
| Custom Colour Service | * | * | | | * | * |
| Self-adhesive | * | * | | | * | |
| Flexible/Conformable | * | * | | | * | * |
| Thermoformable | * | | | | | |
| Easy to Install | * | | | | * | * |
| Easy to Repair | * | | | | * | |
Easy to Repair
Damaged film can be easily repaired.
Cost Savings
Projects using DI-NOC™ can significantly reduce cost compared to traditional remodelling.
Less Noise
Installation requires less equipment = less noise.
Faster To Install
Minimal preparation is required for fast product application.
Less Mess
No demolition and minimal equipment = less mess.
Resurfacing Matters
Projects utilizing 3M™ DI-NOC™ Architectural Finishes may qualify for LEED certification credits.
Repair and patch. DI-NOC™ brand repairs are easy to complete and virtually invisible at normal viewing distances.
See a DI-NOC Installation transform a space!