Increase employee productivity
Improve student test scores
Improve patient recovery times
Decrease rates of absenteeism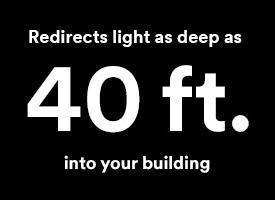 3M™ Daylight Redirecting Film is a simple, effective daylighting solution which comfortably brings natural light deeper into buildings.
3M™ Daylight Redirecting Film is designed to move excess light close to the window and redirect it deeper into the building to increase the daylighting penetration. Bringing natural light deeper into the building helps provide the many benefits of natural light for more occupants as well as helping reduce the need for artificial lighting which can save energy.
In addition, 3M Daylight Redirecting Film:
Reduces glare and discomfort caused by direct sunlight on occupants
Redirects natural light as much as 40 ft. or more into the building
Extends daylight zone up to 8 ft. into the interior for every 1 ft. of treated window
Can provide up to 52% lighting energy savings compared to baseline usage
Can provide savings of up to 1.5 kwh/sq.ft. of floor area
Simple, effective, daylighting solution.
Compared to existing light reflecting strategies, 3M Daylight Redirecting Film is easily integrated into new or existing windows.
It requires no extra hardware or infrastructure, and little to no additional maintenance or special cleaning. It works at all times of the day, even when the sun is at a low angle. Plus, it's more cost effective than many existing daylighting solutions
3M™ Daylight Redirecting Film is installed in the upper portion of the window.
Daylight is redirected upwards toward the ceiling, allowing natural light to penetrate deeper into the building.
Made of micro-structured prisms, the film optically redirects over 80% of daylight upward and diffuses it for even distribution.
When Shades Are Open
Direct sunlight can beam into the space at low angles, causing glare and discomfort.
When Shades Are Closed
Shades are closed to block uncomfortable direct sunlight, which also decreases natural light in the space.
3M™ Daylight Redirecting Film
When Shades Are Open
The light from the upper glass is redirected to the ceiling, increasing natural light and decreasing glare in the space caused by direct sunlight.
When Shades Are Closed
Even when the vision glass shades are drawn, natural light continues to penetrate into the space through the clerestory glass with 3M Daylight Redirecting Film.
Optimizing natural light is good for business.
Installing 3M™ Daylight Redirecting Film provides a better experience for everyone.
Office Buildings
Increase tenant comfort
Boost employee productivity
Decrease rates of absenteeism
Improve tenant retention
Reduce energy costs
Schools
Improve student test scores
Decrease rates of absenteeism
Keep students more comfortable so they can focus on schoolwork
Reduce energy costs
Hotels
Improve guest comfort
Create brighter interiors
Reduce energy costs
Healthcare
Increase patient comfort
Improve patient recovery times
Get the benefits of natural light in healing
Reduce energy costs
Retail
Increase customer comfort
Create brighter interiors
Boost retail sales
Reduce energy costs
Get the benefits of viewing merchandise under natural light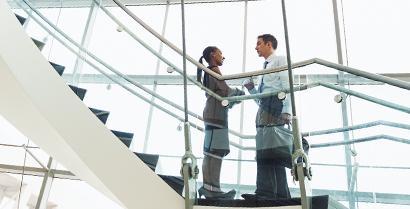 Government
Improve tenant comfort
Increase employee productivity
Decrease rates of absenteeism
Reduce energy costs
Daylight Redirecting Film
Product Performance
---
| | | | | |
| --- | --- | --- | --- | --- |
| DRF | Single Pane | Single Pane/Tinted | Double Pane | Double Pane/Tinted |
| | | | | |
| Solar Heat Reduction | 45% | 37% | 25% | 22% |
| Heat Loss Reduction | 3% | 3% | 0% | 0% |
| Glare Reduction | 43% | 44% | 44% | 43% |
| UV Blocked | 99% | 99% | 99% | 99% |
| Total Solar Energy Rejected | 58% | 60% | 47% | 60% |
Technical Data
---
Glass Type

None

0.94

8%

88%

0.84

1.06

DRF

0.58

9%

68%

0.78

.99

None

0.69

5%

50%

0.84

1.06

DRF

0.50

8%

41%

0.78

.99

None

0.81

14%

78%

0.84

0.50

DRF

0.64

13%

61%

0.78

0.46

None

0.55

8%

45%

0.84

0.50

DRF

0.48

12%

37%

0.78

0.46