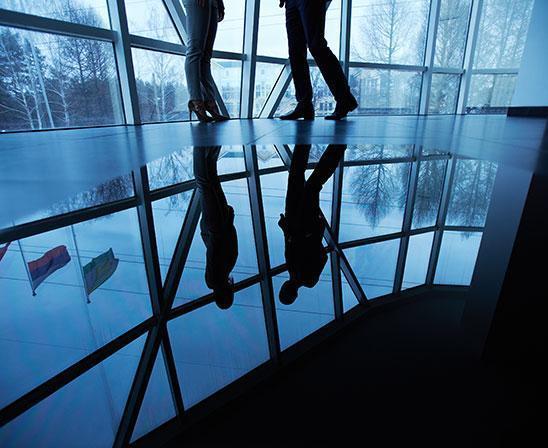 3M Prestige window films incorporate features
that increase on-angle heat rejection to help keep you cool
Non-metallized, 3M technology provides superior performance
with no corrosion or interference with cell phone signals
Extends the life of furnishings by rejecting UV rays, the single largest component of fading
Increases personal safety by minimizing flying glass
Low reflection enhances views and overall beauty
Reduces glare and eye discomfort
Prestige 70 is comprised of over 200 ultra-thin layers, and is manufactured utilizing 3M's patented nanotechnology process.
Nanotechnology creates unique clusters of nanometer-sized particles that provide superior heat control and glare reduction while preserving exterior and interior window views.
Light transmission values on various glass substrates
Single Pane, Tinted Window
41%
Insulated & Tinted Window
37%


Made of over 200 layers using nano-technology, this film provides significant energy performance despite its "clear" appearance. This is the lightest version with a 70% light transmission.
Colourless in appearance, this film provides excellent energy savings performance. This is the lightest version with 70% visible light transmission.
Product Performance
---
| | | | | |
| --- | --- | --- | --- | --- |
| | Single Pane | Single Pane/Tinted | Double Pane | Double Pane/Tinted |
| | | | | |
| Solar Heat Reduction | 38% | 32% | 21% | 19% |
| Heat Loss Reduction | 3% | 3% | 2% | 2% |
| Glare Reduction | 23% | 23% | 23% | 22% |
| UV Blocked | 99% | 99% | 99% | 99% |
| Total Solar Energy Rejected | 50% | 57% | 44% | 58% |
Technical Data
---
Glass Type

None

0.94

8%

88%

0.84

1.06

PR-70

0.58

9%

68%

0.78

.99

None

0.69

5%

50%

0.84

1.06

PR-70

0.50

8%

41%

0.78

.99

None

0.81

14%

78%

0.84

0.50

PR-70

0.64

13%

61%

0.78

0.46

None

0.55

8%

45%

0.84

0.50

PR-70

0.48

12%

37%

0.78

0.46